Tape banding bag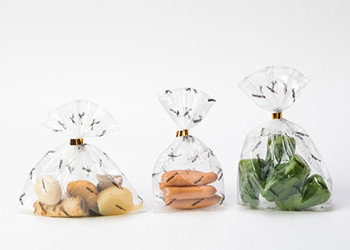 Characteristics
This is a "pouch bag" that is a pillow bag or a pillow gusset bag that has the top banded with adhesive tape.
The inside of a banded gusset bag can be inflated more than a bound pillow bag and appears to have more volume.
It is widely used for packaging sausages, fishcake products, vegetables and fruits, and frozen foods. The appearance of being handmade is appealing and has an effect to enhance the customer's desire to purchase a product.
Depending on the product, it may be able to stand (on its own).
Examples
Sausage, Fish sausage (Fishcake), Green pappers, Taros, etc.