FOR POWDER
THE TYPE EQUIPPED WITH AUGER FILLER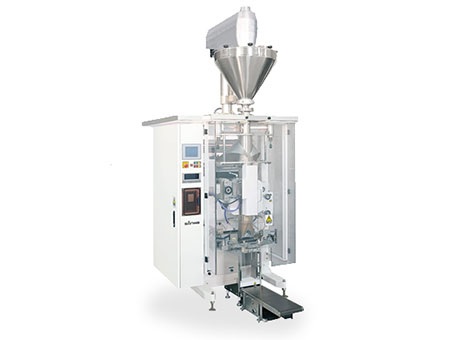 Features
・Packaging Machine Interlocked directly with Auger Filler able to pack powder and granule.
・Able to correct weight from feedback of Weight Checker when overweight equipped Net Weight Scale unit with Load cell.
Besides the solid, the powder can be packaged by synchronization with the auger filler.
Shape of bag
Pillow bag, Block bottom gusset bag
Applications
Chemicals, Flour, Coffee, Powdery soup, Sugar,
Agricultural chemicals, Food additive, Toner, etc.
Specifications
Optional equipment
●Dust collector  ●Static eliminator ●Level controll device ●Filling weight feedback device ●Stiring machine  ●Vacuum degasifier
There are some options that cannot be done depending on the model.
Product Specifications

| | |
| --- | --- |
| Capacity | MAX 60bags/min (MAX 40bags/min) |
| Range of amount of filling | 50g~5kg (1g~300g) |
| Hopper | 70ℓ (16ℓ) SUS304 Made of stainless steel |
| Auger size | Diameter MAX80mm(7mm~35mm) |
| Filling method | Filling with auger, The auger rotates with the pulse control. |
| Traction motor | 3.0kw(1.5kw) |
| Machine size | 1100D × 560W × 950H mm (750D × 360W × 770H mm) |
| Machine weight | 150kg(60kg) |
Bag Form Image
Note
( )The description in the inside, it is a specification of a slightly small type.