WF-9020SN
FOR SMALL SIZE/PYRAMID POUCH,3-SIDE SEAL & PILLOW BAG CONVERTIBLE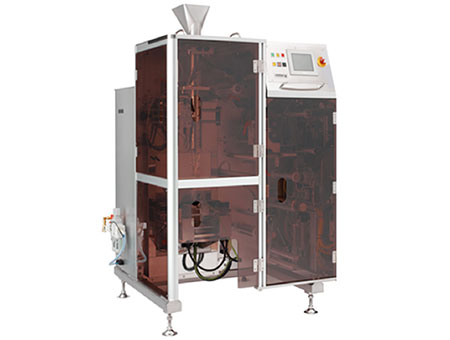 Features
・This is a small bag packaging machine and by just switching the horizontal sealer setting from fixed to swivel, this packaging machine can use pyramid pouches (triangle bags) and flat bags (pillows).
・This is a high performance machine even though it is a small bag packaging machine and the timing for each part such as the LCD touch panel, can be adjusted.
Shape of bag
Pillow bag, Pyramid pouch, Headed Pillow Bag with Perforation, 3-side seal
Applications
Snacks, Nuts, Tea leaves, Powdery soup, Powder, Granulated Sugar, Bath powder, Metal parts, etc.
※There's a case that needs some optional specifications depending on a machine model.
Product Specifications
Capacity
Pyramid Pouch: 80bags/min(Max.)
3-Side: 60 bags/min (Max.)
Pillow: 100 bags/min (Max.)
Bag size
Pyramid Pouch & Pillow : 35~100mm (W) , 40~175mm (L)
3-Side : 35~110mm (W) , 40~175mm (L)
Film material
Laminated film
Power consumption
3PH  AC 200/220V 2.3kW
Air consumption
Approx.100L(Normal)/min(0.6MPa) 
NOTE: In case operated at 80 bags/min.
Machine size
950W × 990D × 1550H mm
Machine weight
Approx. 400 kg
New Capability (Comparison with our traditional machines)
Adopted Servo motor on Horizontal sealer, stable packaging and improved capacity become real.
Able to handle multipurpose packaging.
Enlarged the bag size.