WF-3520SN
VARIOUS USE FOR PILLOW, 4 SIDE AND 3 SIDE BAGS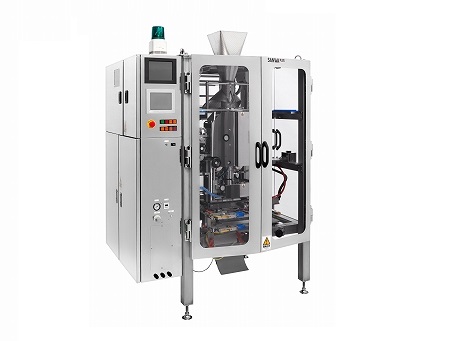 Features
・Various use for pillow, 4-side and 3-side bags with rotating Horizontal Sealer 90 degrees.
・Sealer stability is highly increased owing to servo controlled film feeding and horizontal sealer.
・Automatic Film Tracking Correction Device W/EPC can prevent film from zigzaging.
Shape of bag
Pillow bag, 3 or 4 side seal bag
Applications
Cheese, Frozen foods, Powder, Flakes, Cut chicken, Frozen vegetables, Sausage, Meatballs, Snacks, Nuts, etc
Product Specifications
Capacity
Pillow bag,3 or 4 side seal bag    MAX 50 bags/min
Bag size
Pillow bag   Width 100~260 mm Length 100~310 mm
3 or 4 side seal bag Width 100~330 mm Length 100~310 mm
Film material
Laminated film
Power consumption
3PH,AC200/220V, 6.0kW
Air consumption
Approx. 550 ℓ (Normal)/min (0.6MPa)
Machine size
1460W × 1715D × 1900H mm
Machine weight
Approx. 850 kg
Note
Air Consumption is when the machine is running at 40 bags/min..