WF-3520CN
VARIOUS USE WITH IN-LINE ZIPPER DEVICE (VARIOUS ZIPPER/PILLOW, 4 SIDE, 3 SIDE)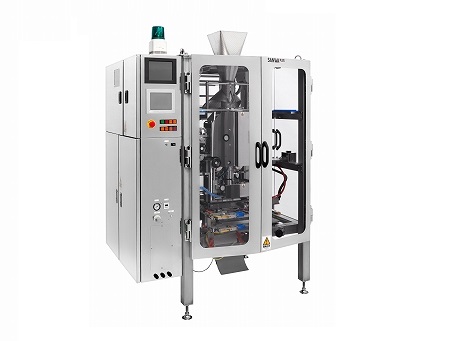 Features
・Able to handle various bag types such as Pillow, 4-side, 3-side also Zipper bags.
・More economical with pulling Zipper tape from Zipper Reel and welding while packing than using preforming bag.
・Sealer stability is highly increased owing to servo drive used for horizontal sealer.
・The demand of Zipper bag use has been higher in recent years.
Shape of bag
Pillow bag, 3 or 4 side seal bag, Zipper bag
Applications
Cheese, Frozen foods, Powder, Flakes, Cut chicken, Frozen vegetables, Sausage, Meatballs, Snacks, Nuts, etc
Product Specifications
Capacity
Pillow bag,3 or 4 side seal bag    MAX 50 bags/min
Zipper bag     MAX 40 bags/min
Bag size
Pillow bag  Width 100~260 mm Length 100~350 mm
3 or 4 side seal bag  Width 150~320 mm Length 150~350 mm
Zipper bag  Width 150~320 mm Length 150~300 mm
Film material
Laminated film
Power consumption
3PH,AC200/220V, 8.5kW
Air consumption
Approx. 550 ℓ (Normal)/min (0.6MPa)
Machine size
1460W × 1715D × 1900H mm
Machine weight
Approx. 900 kg
Note
Air Consumption is when the machine is running at 40 bags/min..