WF-2220SK SN
TAPE BANDING MACHINE INTEGRATED TYPE SUS FRAME,SERVO MOTER CONTROLLED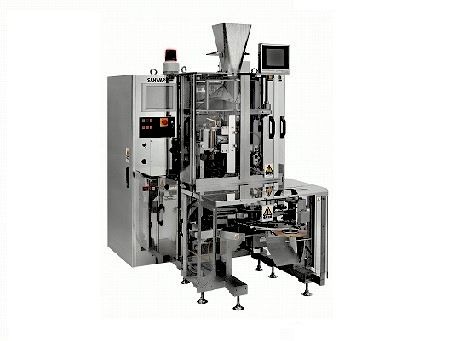 Features
・Able to produce beautiful Tape Banding bags with Built-In Banding machine.
・High-Grade Packaging Machine Automatic Film Tracking Device, Color LCD Touch Screen Control Panel,Production Management And Production Counter Screen and all stainless made are standard specification.Designed able to equip Oxygen Analyzer and Error Printing Detection.
・Built-In Banding machine able to perform with high speed and smoothly owing to servo controll.
Shape of bag
Pillow bag, Tape banding pillow bag, Tape banding gusset bag
Applications
Sausage, Frozen Foods, Snacks, Wakame seaweed, etc.
Product Specifications
Capacity
MAX 100 bags/min
(MAX 80 bags/min at tape banding operation)
Bag size
Width 80~210 mm
Length 80~330 mm
Film material
Laminated film
PE/CPP Mono Layer
Power consumption
3PH,AC200/220V, 7.0kW
Air consumption
Approx. 350 ℓ (Normal)/min (0.6MPa)
Machine size
1325W × 2100D × 1600H mm
Machine weight
Approx. 1000 kg
Note
Bag size is for SK (Tape banding type).
For SN type, the maximum width is 225mm.