Supply Conveyor type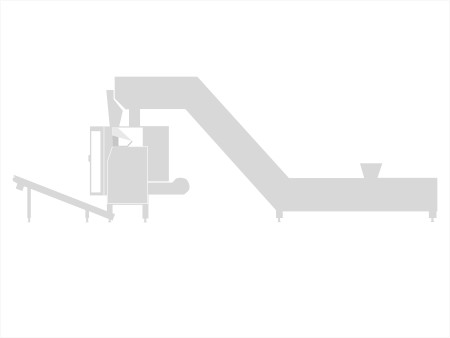 Characteristics
This is a supply layout where a scale is installed behind or on the side of a packaging machine. A Supply conveyor is connected in between them and products that are measured to a set weight by the scale are transported to the packaging machine.
Generally, the supply conveyor used is one with buckets lined up however, in some cases a conveyor with a cleat (partition) is used.
The advantage is that it can be installed in a work room with a low ceiling. However, the installation space will take space lengthwise and cleaning and maintenance of the supply conveyor with dozens of buckets will be time consuming. For this reason, for easy washing, our conveyor can be equipped with a water injector for washing and an air blower to blow-dry moisture and blow away any residue after washing. By using this device, washing can be done by rotating the conveyor and without removing the buckets. (However, this is just a simple washing method and depending on the products, more intricate cleaning such as washing the buckets by hand and sterilization may be necessary.)
On the conveyor feed side, a scale does not have to be connected and products can be "fed manually".